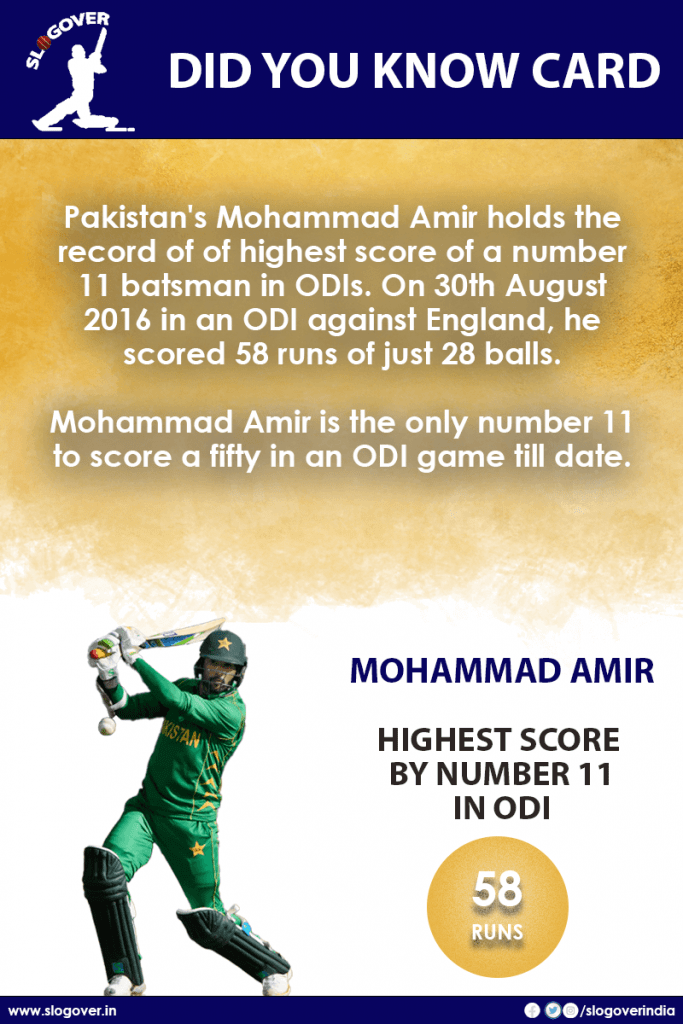 Mohammad Amir, record of highest score by a number 11 in ODI, 58 Runs
Pakistan's Mohammad Amir holds the record of of highest score of a number 11 batsman in ODIs. On 30th August 2016 in an ODI against England, he scored 58 runs of just 28 balls. Chasing the target of 445 runs, Pakistan steadily lost wickets in in this match, only for Mohammad Amir to delay the loss with a 22-ball half-century from No. 11.
Mohammad Amir is the only number 11 to score a fifty in an ODI game till date. The previous highest by a No. 11 was 43 by Shoaib Akhtar which was also against England, in Cape Town in 2003 World Cup.
So, the Highest score by a number 11 is 58 runs scored by Mohammad Amir.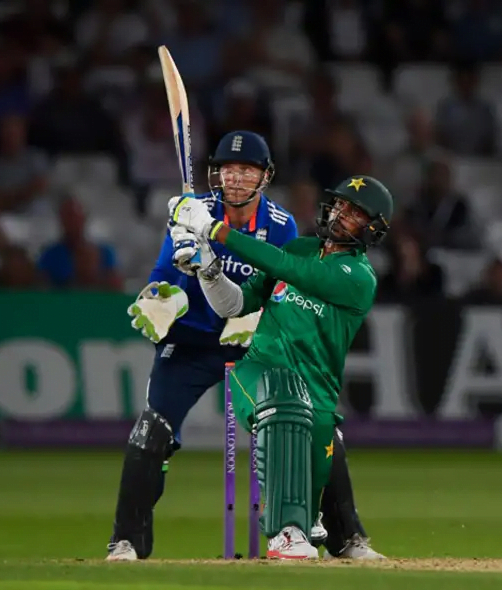 Pakistan's batting scorecard of match where Mohammad Amir recorded the highest score by a number 11 in ODI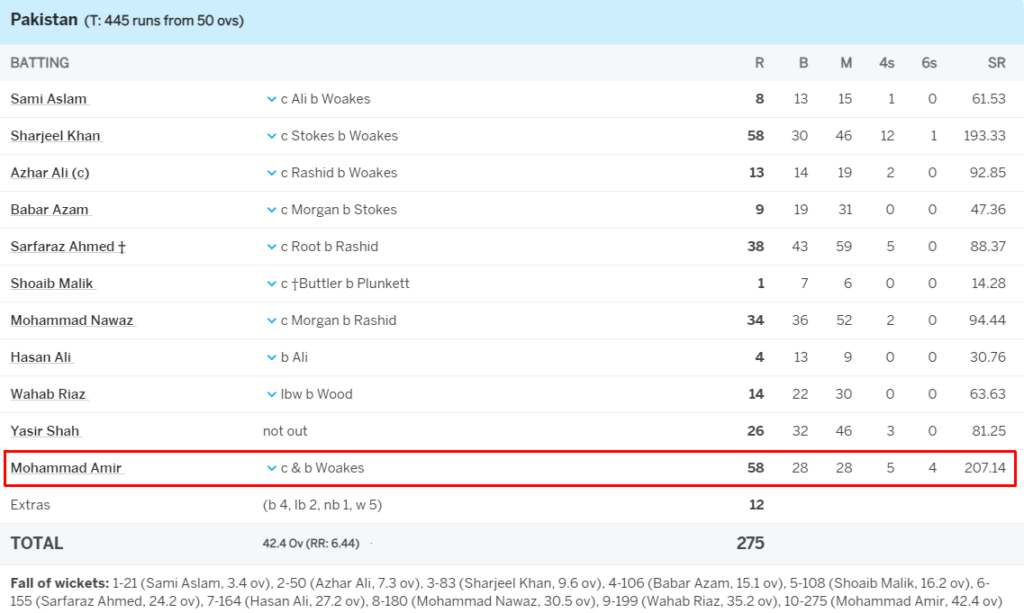 Most Runs In An Innings By a Number 11 Batsman In ODIs
| | | | | | | | | | |
| --- | --- | --- | --- | --- | --- | --- | --- | --- | --- |
| Player | Runs | Balls | 4s | 6s | SR | Team | Opposition | Ground | Match Date |
| Mohammad Amir | 58 | 28 | 5 | 4 | 207.14 | Pakistan | v England | Nottingham | 30-Aug-16 |
| Shoaib Akhtar | 43 | 16 | 5 | 3 | 268.75 | Pakistan | v England | Cape Town | 22-Feb-03 |
| M Ntini | 42* | 35 | 3 | 2 | 120 | South Africa | v New Zealand | Napier | 02-Mar-04 |
| J Garner | 37 | 29 | 0 | 1 | 127.58 | West Indies | v India | Manchester | 09-Jun-83 |
| PJ Ongondo | 36 | 42 | 2 | 1 | 85.71 | Kenya | v West Indies | Nairobi (Gym) | 18-Aug-01 |
Mohammad Amir, the sensational speed star from Pakistan
Mohammad Amir is a Pakistani cricketer who has made a name for himself as one of the most talented and skilled bowlers in the game. Born on April 13, 1992 in Gujjar Khan, Pakistan, Amir began playing cricket at a young age and quickly showed a natural talent for the sport.
Amir made his international debut for Pakistan in 2009, at the age of just 17, and quickly established himself as one of the top bowlers in the country. He is known for his ability to swing the ball both ways, and his accurate and consistent line and length.
In 2010, Amir was part of the Pakistani team that reached the semi-finals of the ICC World Twenty20 and the final of the Asia Cup. He also played a key role in Pakistan's successful tour of England in 2010, where he took 24 wickets in the 4-Test series.
Unfortunately, in 2011, Amir was involved in a spot-fixing scandal during a Test match against England, and he was banned from cricket for five years. After serving his ban, Amir returned to cricket in 2016 and has since worked hard to rebuild his career and reputation.
Since his return, Amir has once again established himself as one of the top bowlers in Pakistan, and has represented his country in several international tournaments, including the 2017 Champions Trophy, where he helped Pakistan win the tournament.
Amir has also had success in domestic cricket, representing various teams such as Pakistan Super League's Islamabad United, Karachi Kings, and in 2021 he joined the Middlesex County Cricket Club in England.
Off the field, Amir is known for his humble and down-to-earth personality, and is respected by both his teammates and opponents. He is also actively involved in various charitable causes and is a role model for young cricketers in Pakistan.
In conclusion, Mohammad Amir is a talented and skilled bowler who has had a successful career, despite the setback of the spot-fixing scandal. His hard work and dedication have seen him regain his place in the Pakistani cricket team, and he continues to be a valuable player for his country. His skill and ability with the ball, his character and humble personality make him a well respected player in the cricket world.
FAQs

What was the Mohammad Amir spot-fixing scandal?
In 2010, Mohammad Amir and two other Pakistani cricketers, Salman Butt and Mohammad Asif, were accused of participating in spot-fixing during a Test match against England. Spot-fixing refers to the practice of pre-determining the outcome of a specific part of a match, such as the number of runs scored in an over or the number of wickets taken in a specific period of time. The players were accused of accepting bribes from a bookmaker to bowl no-balls at specific times during the match.
What was the outcome of the scandal?
Amir, Butt, and Asif were all found guilty of spot-fixing and banned from cricket for varying lengths of time. Amir was banned for five years, Butt for ten years, and Asif for seven years. The bans were handed down by the International Cricket Council (ICC) and were also recognized by other cricket-playing nations.
Did Amir admit to his involvement in the scandal?
Amir initially denied any involvement in the scandal, but later pleaded guilty in court to charges of conspiracy to cheat and conspiracy to accept corrupt payments. He also made a public apology for his actions.
Back to Home
#Slogover #DidYouKnowCard #Cricket #CricketStories #CricketRecords #SlogoverRecords

Refer to Best Cricket Records Website ESPNCrickInfo for more such interesting information.