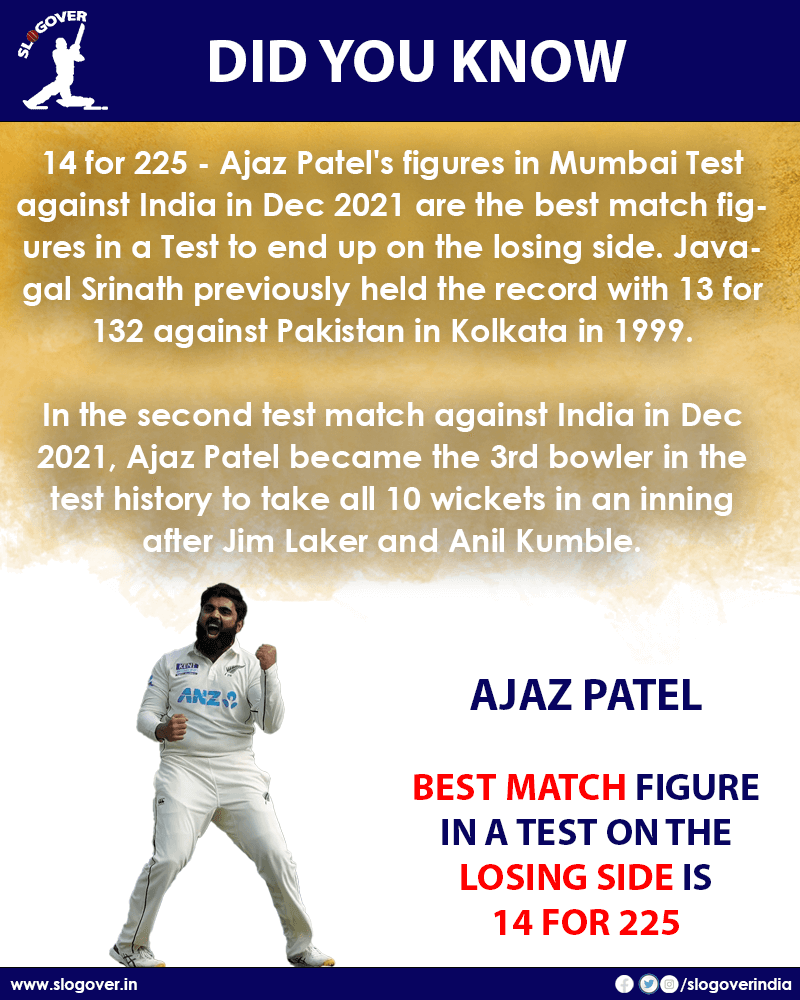 Ajaz Patel – Best match figure in a losing side
14 for 225 – Ajaz Patel's figures in Mumbai against India are the best figures in a match to end up on the losing side.
New Zealand left arm spinner Ajaz Patel has taken 14 wickets in the match against India at Mumbai in December 2021. In the first inning of India he has taken all the 10 wickets and became the third bowler in the world cricket who has done this Charisma of taking all the wickets in an inning after Jim Laker and Anil Kumble.
In the second inning Ajaz Patel took 4 wickets of India. Despite his heroic effort New Zealand lost this match by a huge margin of 372 runs.
Ajaz Record of best match figures on the losing side
Patel has taken a total number of 14 wickets of Indian innings but his efforts gone in vain when India was able to manage their greatest win in terms of margin of runs. India won this match by 372 runs.
Ajaz Patel 14 wickets for 225 runs is the best figures in a test to end up on a losing side (full scorecard).
Previous Record of best match figures in a Test to end up on the losing side
Javagal Srinath previously held the record with 13 for 132 against Pakistan in Kolkata in 1999. This was the famous Kolkata match against Pakistan in 1999 in which Shoaib Akhtar got the wickets of great Rahul Dravid and great Sachin Tendulkar in two consecutive deliveries. Great test match where advantage point of time Pakistan 26 for 6 in their first inning. But after the fighting knocks of Moin Khan and Wasim Akram in the first inning and a brilliant 188 not out by Saeed Anwar in the second inning of Pakistan when he carried the bat, Pakistan was able to win this match by 46 runs (full scorecard).
Best inning figure in a losing cause
Ajaz also became the first player to end up on the losing side despite taking all ten in a Test innings. The previous best innings figures in a losing cause were 9 for 83 by Kapil Dev against West Indies in 1983 (full scorecard).
Back to Home