India Vs New Zealand Test Match – All wickets by Indian born bowlers
The 2nd test match between India and New Zealand finished on 4th day. India won the match by 372 runs. This is a match of records where Ajaz Patel took all 10 wickets in India's first innings, New Zealand bowled out on 62 in their first inning. But do you know, in this match a unique record has been created where all the wickets fell on all four days were taken by Indian born bowlers. Because Ajaz Patel and Rachin Ravindra are also Indian born and play for New Zealand and they were the only bowlers from New Zealand team who took wickets in this match.
This is a rare unique record where all wickets taken by Indian born bowlers in India vs New Zealand test cricket.
Indian first Inning and Ajaz Patel historic bowling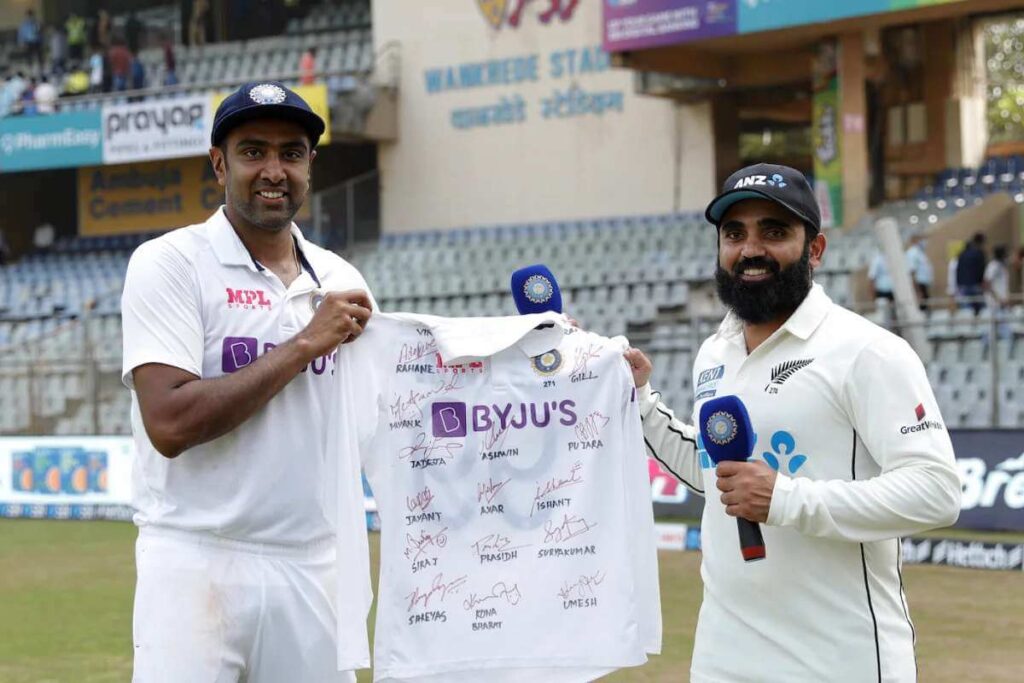 India won the toss and opted to bat. With the brilliant century of Mayank Agarwal India was able to post a respectable total of 221 for 4 wickets at the end of first day.
In the second day India bowled out on for 325 runs. New Zealand spinner Azaz Patel creative history and taken all the 10 wickets of India. He became only the third cricketer in the history of test cricket who have taken all the 10 wickets in an inning. Prior to this Anil Kumble and Jim Laker were the other two bowlers who have done this Charisma of taking all the 10 wickets of the opposition team.
New Zealand batting collapse
But from here the magic of Indian bowlers started. In the first inning of New Zealand they were bowled out on 62 runs in just 28.1 overs. Ashwin was the leading Wicket taker and he has taken 4 wickets in just 8 runs. Mohammad Shiraj taken 3 wickets and Axar Patel and Jayant Yadav took 2 and 1 wicket respectively.
India did not force follow on
Though India hand taken very good lead but they did not ask New Zealand to come for a follow on. India declared their second inning for 276 runs for 7 wickets on 3rd day and then ended the day with taking 5 wickets of New Zealand for 140 runs. On the fourth day Indian bowlers did not waste much time and taken remaining five wickets of New Zealand team in just another 27 runs.
Ravichandran Ashwin was again the highest wicket taker in the second innings as well. Ashwin has again taken 4 wickets. Jayant Yadav and Axar Patel have also taken 4 in 1 wickets each in the New Zealand's second inning.
All Indian born bowlers
This is one rare and unique record in the India vs New Zealand Test cricket series is the match where all the wickets were taken by Indian-born bowlers. This historic feat was achieved on Dec 6, 2021, during the second Test of the New Zealand tour of India.
Back to Home
Refer to Best Cricket Records Website ESPNCrickInfo for more such interesting information.