There are moments in sporting history that live forever. Indian Cricket Captain Kapil Dev accepting the 1983 World Cup (Prudential World Cup) Trophy on 25th June 1983 at the balcony of Lord's in London below is one of them.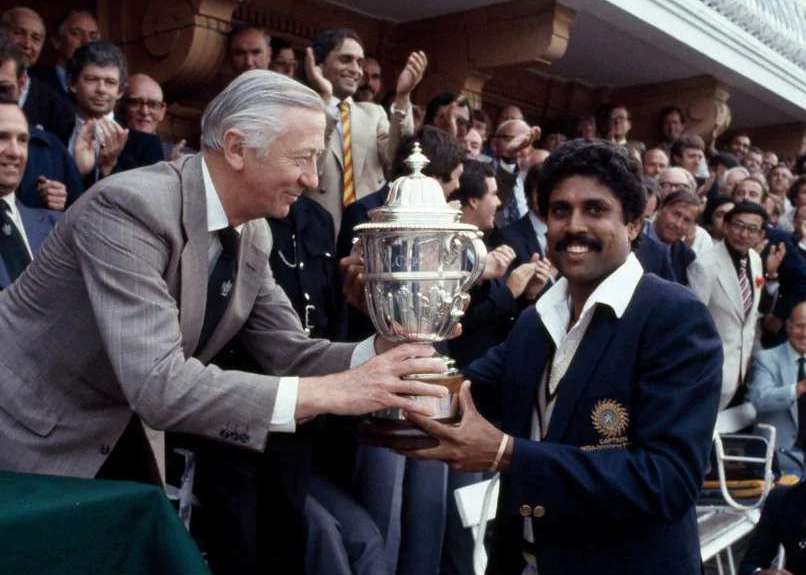 On this Day, 38 Years back, India lived this dream of becoming the World Champions of Cricket by holding the 1983 WorldCup Trophy on 25th June 1983.
Today, we thought to bring you this India's dream journey, match by match. Moment by moment. So, lets begin ; 🏏
INDIA'S 1ST MATCH : INDIA VS WEST INDIES (JUNE-9-10, 1983)

This was probably the biggest upset of the three world cups till now.
The Indian team secured their unexpected victory against the Defending champion West Indies with a 34 runs margin.
India scored a respectable 262 for 8 and then bowled out the whole West Indies Team on 228 runs in 54.1 overs.
Yashpal Sharma played a superb 89 runs inning and was judged Man of The Match.
It was their second win in any World Cup match – the other against East Africa in the 1975 tournament.
Against all odds, they had upset the mighty West Indies who suffered their first loss in the flagship tournament after going unbeaten in the first two editions.
This victory gave India the belief and the confidence and set the tone for the entire tournament.
INDIA'S 2ND MATCH : INDIA VS ZIMBABWE (JUNE 11, 1983)

Indian team seems like on a role. They thumped the Zimbabwean side in an exciting match by 5 wickets at the Leicester ground.
First Indian Team bowled out Zimbabwe on 155 in 51.4 overs and then they easily achieve the target 37.3 overs for the loss of 5 wickets.
India registered their second straight victory in the tournament.
Madan Lal took 3 wickets for 27 runs and he was awarded the Man of The Match Trophy for this match performance.
INDIA'S 3RD MATCH : AUSTRALIA VS INDIA (JUNE 13, 1983)

The Indian team was on a winning spree by winning both of their matches, but the Australian team stopped their streak.
Australians done that in style, by thumping India down with a big margin of 162 runs at the Nottingham ground.
Australia put a mammoth total of 320 for 9 wickets in their 60 overs quota and then bowled out India for only 158 runs in 37.5 overs.
This also puts a big dent on Indian hopes to qualify for the semis.
Though, young Ken MacLeay took 6 wickets for 39 runs in this match, however, Trevor Chappell was given Man of the Match for his marvelous 110.
INDIA'S 4TH MATCH : INDIA VS WEST INDIES (JUNE 15, 1983)

With the new format in place for this world cup, every team within the two groups got to face each other twice.
And whilst India met West Indies after their previous victory, the defending champions took their revenge by beating them with 66 runs at the Oval.
West Indies put 282 on board after batting first and then bowled India out for 216 runs in 53.1 overs.
West Indies' batting was sustained by a relatively subdued Richards in an innings of 119 with only six 4s and one 6.
His stands of 101 with Haynes and 80 in fourteen overs with Lloyd brought West Indies to 198 for three, and though he was out in the 52nd over, India were given a stiff task.
For a time, after a start of 21 for two, Amarnath and Vengsarkar raised hopes of a strong Indian challenge, reaching 89 for two after only 21 overs
But Vengsarkar was then struck in the mouth by a lifting ball from Marshall.
Viv Richards was given Man of The Match for his brilliant disciplined 119 Runs.
INDIA'S 5TH MATCH : INDIA VS ZIMBABWE (JUNE 18, 1983)

A remarkable match contained one of the most spectacular innings played in this form of cricket by Kapil Dev.
India, who had chosen to bat on a pitch from which the ball moved a lot, were 9 for four – soon to be 17 for five.
Then Indian captain, Kapil Dev, came in. With Binny and Madan Lal, Kapil Dev took the score to 140 for eight and by then he was in full flow.
Kirmani provided sensible support in an unbroken ninth-wicket stand of 126 in sixteen overs.
Kapil Dev, with six 6s and sixteen 4s in all, reached 175, beating the previous highest for the tournament, Glenn Turner's 170 for New Zealand against East Africa at Edgbaston in 1975.
The match was still not firmly in India's hands, for Curran, played a dashing innings of 73, and it was not until he was ninth out at 230 in the 56th over that India were safe.
India scored 266 for 8 and then bowled Zimbabwe out for 235 in 57 overs. Kapil Dev was Man of The Match for his roaring 175 not out.
INDIA'S 6TH AND FINAL GROUP STAGE MATCH: AUSTRALIA VS INDIA (JUNE 20, 1983)

This was virtually a Quarter Final between India and Australia.
Australia would have qualified for the semi-final if they had won here, having a faster overall scoring-rate than India, but they gave a poor performance.
India's innings was slow to develop, and for some time after the third wicket fell at 65 it was not certain that they would muster enough runs.
But the later batsmen all made useful contributions and the Australian bowlers helped with fifteen no-balls and nine wides.
In an innings of 247, extras provided the second-highest score (37 Extras).
Binny, who came on in the sixteenth over, swung the ball a little and, with an able partner in Madan Lal, quickly reduced Australia from 46 for 1 to 78 for 7.
India scored 247 but then bowled Australia out for 129 Runs only in 38.2 overs.
Roger Binny and Madan Lal both took 4 wickets each for 29 and 20 runs respectively and Binny was judged Man of the Match.
1ST SEMI-FINAL: INDIA VS ENGLAND (JUNE 22, 1983)

The Indian team was going through a fairy tale in this tournament and they must not have believed themselves whilst defeating the host England by 6 wickets at the Manchester ground in the 1st semi-finals.
England scored 213 all out in 60 overs and India achieved the Target in 54.4 over for the loss of 4 wickets.
In this match at Old Trafford on 22 June, England won the toss and elected to bat.
The English batsmen mistimed many balls and used the bat's edge frequently, as the restrictive Indian bowling led England to score 213 (all out, 60 overs).
Graeme Fowler (33 from 59 balls, 3 fours) top scored, and Kapil Dev took 3 for 35 in eleven overs, with Mohinder Amarnath and Roger Binny taking two wickets each.
In reply, Yashpal Sharma (61 from 115 balls, 3 fours, 2 sixes) and Sandeep Patil (51 from 32 balls, 8 fours) made half-centuries, as India reached their target in 54.4 overs, winning by 6 wickets in a classic victory over the previous tournament's runners-up.
Mohinder Amarnath (46 from 92 balls, 4 fours, 1 six) picked up the man-of-the-match award for his all round performance, which saw him add 46 runs to his earlier bowling success (2/27 in 12 overs).
THE FINALS: INDIA VS WEST INDIES (JUNE 25, 1983)

History was made when the Indian team registered a miraculous win against the tournament favourites and defending champion West Indies in the finals by 43 runs.
India scored only 183 but then bowled West Indies out for 140 Runs only in 52 overs.
India won their first world cup and also became the second team after the Windies to won the coveted title.
In the final, India lost the toss and were asked to bat first against the West Indies.
Only Krishnamachari Srikkanth (38 from 57 balls) and Mohinder Amarnath (26 from 80 balls) put up any significant resistance as Roberts, Marshall, Joel Garner and Michael Holding ripped through the Indian batsmen.
Surprising resistance by the tail allowed India to compile 183 (all out, 54.4 overs).
The Indian bowling exploited the weather and pitch conditions perfectly to bowl out the West Indies for 140 from 52 overs, winning by 43 runs and completing one of the most stunning upsets in cricket history.
It still remains the lowest ever total successfully defended in a World Cup final.
Amarnath and Madan Lal both took 3 wickets each.
Viv Richards, was West Indies' top scorer with 33 from 28 balls.
Amarnath was the most economical bowler, conceding just 12 runs from his seven overs, while taking 3 wickets, and was once again awarded the Man of the Match award for his all-round performance. There was no 'Man of the Series' awarded in 1983.
We hope you like this journey of Indian Cricket Team First Ever World Cup Victory. Kapil Dev holding the Prudential World Cup Trophy on 25th June 1983 at balcony of Lord's.
Please like our page. Subscribe, comment and Share this beautiful journey with your friends and cricket fans.
---
Watch and Share this Video
FAQs
What was 1983 world cup india vs zimbabwe scorecard and how much India scored in that match?

Summary of 1983 world cup india vs zimbabwe scorecard.
Who won 1983 world cup final?
India won 1983 world cup final by 43 runs.
What was final 1983 world cup scorecard?

Summary of final 1983 world cup scorecard
List of players in 1983 world cup team india?

List of players in 1983 world cup
What was 1983 world cup squad?
Sunil Gavaskar, Kris Srikkanth, Mohinder Amarnath, Sandeep Patil, Yashpal Sharma, Roger Binny, Madan Lal, Ravi Shastri, Balwinder Sandhu, Dilip Vengsarkar, Kirti Azad, Kapil Dev, Sunil Valson, Syed Kirmani
1983 world cup semi final scorecard?

Summary of 1983 world cup semi final scorecard
1983 world cup india matches?
List of 1983 world cup india matches;
1st Match against West Indies – 9-10-June 1983 – India won by 34 runs
2nd match against Zimbabwe – 11-June-1983– India won by 5 wickets
3rd match against Australia – 13-June-1983– India lost by 162 runs
4th match against West Indies – 15-June-1983– India lost by 66 runs
5th match against Zimbabwe – 18-June-1983– India won by 31 runs
6th match against Australia – 20-June-1983– India won by 118 runs
7th match – Semi-final against England – 22-June-1983– India won by 6 wickets
8th match – Final against West Indies – 25-June-1983– India won by 43 runs
Back to Home
Refer to Best Cricket Records Website ESPNCrickInfo for more such interesting information.